Last Updated on July 12, 2021 by hmdcadmin
If you are thinking about joining that sport, then you must know every detail related to paramotoring. One of The most important question you can ask here is how much does paramotoring cost? Paramotoring brings up a list of equipment, training, and running costs.
These are the ways you have to go through to biome a pilot. The equipment and training are the most prominent element in paramotoring.
The gear will keep you safe, while the training will help you know what to do in a bad situation. This article will provide you with all the details about paramotoring and the cost related to it.
How Much Does Paramotoring Cost?
Paramotoring includes training and equipment. The equipment cost will go above the range of $6000, switching to a second-hand paramotor will cost less. The training session will be around $1,400 depending on the school and the expertise of the people running the school.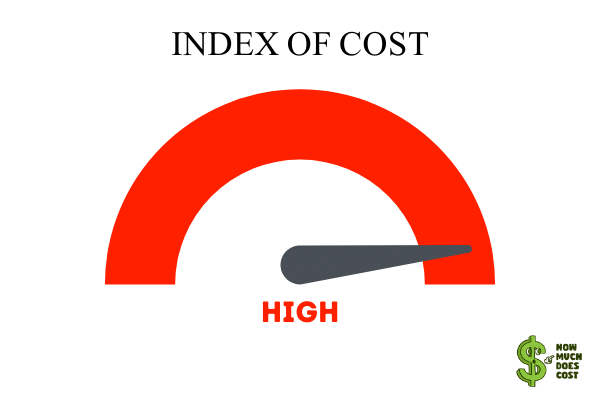 The gear behind the paramotor will be diverse in price; many well-known brands sell their product for a much higher price.
But the option to pick the product from a used section of a website is also appealing to many people. If you don't own too much of your money on a paramotor, then you can switch to getting them all at a far lower price.
This article will have information about the new parameters and the prices of it and the used market. So you will get information from both sides to help you make the right decision in the end.
To fully understand paramotoring, we have to break down the price of it into two parts,
one will be the training and the other one will be the cost of paramotoring.
Both of these things are highly required for the paramotoring license. In addition, there are other costs related to paramotoring, which you will know more about later in the article.
Training Cost For Paramotoring
The first cost of paramotoring is the price of training. After that, you will have to get into training to learn the game better.
The training cost for paramotoring will differ from one to another as there are many different training courses available to make the journey through paramotoring less difficult.
One of the things that impacts the training prices is the no license requirement for anyone to start a school for paramotoring.
Do you need a Licence to fly a paramotor?
Most countries do allow anyone to start a paramotoring school without any form of license. This results in anyone can teach you the ways of paramotoring without holding a proper license.
That is not the case in every part of the world, but most parts follow this routine and open up a paramotoring school without any proper background. This will largely impact the price that you will have to pay in return.
Paramotoring Training cost in UK
In the UK, it cost you $1,400 for a full paramotoring training course. Which translates to £1000 in that region. Not all paramotoring schools take the same approach in training. You will find many of them following a different set of methods to get their word out to people.
Some schools will offer you training for a number of days in exchange for money. In 7 days, they will teach you everything you need to know about paramotoring. On the last date, they will charge £900, which converts to $1,250 in USD.
Pros and Cons Of Paramotoring Training Courses
There is a downside to this way of getting trained. If you are not confident in your abilities, then you will have to pay the same amount again to get it started. While there is a piece of good news here, some schools will provide a fixed cost for the training session. Where you can take as many days as you want to learn everything about paramotoring. It is up to you to decide what path to take for the best paramotoring cost. 
Things To Check Before Start A Paramotoring Training Course
It is highly recommended if you are looking to enroll in a paramotoring school, you will need to check whether the school or the instructor has any professional background or not.
Doing some research and looking at the reviews will easily tell you whether you are signing up with a legitimate school or just one of the scams.
Another research platform you can hit to check the authenticity of the school is by checking out forums, posts, social media accounts, reviews, and many other ways to ensure that the school is indeed the right one.
The new age of social media will help you navigate through the bad schools by reviews, videos, comments, forums, and many other ways to tell whether the school you are signing up for is a good one or not.
You Might be interested:
The cost of a paramotor
You have to make sure of before you jump into this section that going through training is the first thing you should love before thinking about paramotor and wing.
Exercise is important more than anything in this lineup of sports. You can read various articles about the misadventures of newcomers who jumped into the sport without proper training.
It is better to go through an appropriate training routine before buying all the equipment you need to make the sport worth your time and money.
New Paramotor cost
A new paramotor will cost around $6,900 or $5000. The manufacture of the paramotor will have a heavy impact on the price.
When you buy anything on that amount, you will need to do a handful of research beforehand. You can begin by talking to your instructor, do some research on parameters. Just like any other product, paramotors also have perfect and bad cheap imitations.
You will find thousands of cheap models of an original parameter in the market. They will have a much lower quality to them, but it can be very hard to tell with some of these paramotors.
They will put an extensive amount of work to make the cheap version look like an original one from a well-known brand. That shows ongoing research into the subject, and asking around paramotoring circles will help you better buy a new one without getting ripped.
Second-Hand Paramotor Cost
Many will not like the idea of paying over $6000 for a piece of new paramotor equipment, for them, there is an attentive method that will cut the cost and will give them better gear for the paramotoring sport.
This is done by switching to a second-hand paramotor.If you want to make some cuts on the cost of the sports hobby. You will have to look for the second-hand paramotor market. There is a budget here you will need to set before switching to the second-hand market. The prices here will be all over the place.
Tips Before Purchasing a Second-Hand Paramotor
You should always set a line before purchasing a second-hand parameter, If it is overtly cheap compared to other second-hand paramotors in the market, then you will have to do some research or better skip the deal.
People who switch to the second-hand product market have a budget set for these products. A good quality second-hand paramotor will come at $3,500. Basically at half the price of a new one you can have the old one with the same features but costs less. 
Anything below that range is a red flag that you shouldn't cross. Since there are no guarantees or services that will take care of your partner in case of accidents.
You are planning on another game if you get a cheaper one that goes below the rate of a good second-hand paramotor product.
The cost of paramotor wing
New paramotor wings will cost around $3,500, you can listen to your instructor to guide you on the best beginner wings and where to buy them.
One thing to keep in mind, that most instructors are also dealers.
They will sell you the cheap variation of the paramotor with less of the price. Make sure to stay out of these dealings.
The new one will be costly but you are guaranteed to receive the best one in the market. If you have a dealer as your instructor, it is better to run the other way and look for the wings you find good.
If you are preparing to pay $3,500 for a paramotor wing, you can switch to the second wing.
How long do Paramotors wing last?
Again here, you need to be careful. There is a limitation on the wing; any wing's lifespan will go on for 400 hours of flight time.
The lifespan will get impacted by UV and moisture exposure and mechanical stress.
These will cut the lifespan of a wing every time it gets used. You can check the second-hand wing by doing a proper inspection by yourself.
The inspection includes a full porosity test, line check, and visual inspection.
Inspecting them will tell you more about the wing and how the user has handled it.
A tested wing will be more secure than a non-tested one. If the wings are tested, the seller will provide you with everything you need to know about the wings and a test result to make sure everything is in perfect order.
Never go for a wing that hasn't been tested, you will have to make sure what you are buying is legit and doesn't carry any mechanical or visual problems. The report on the side will help make the wing legitimate.
Other costs of paramotoring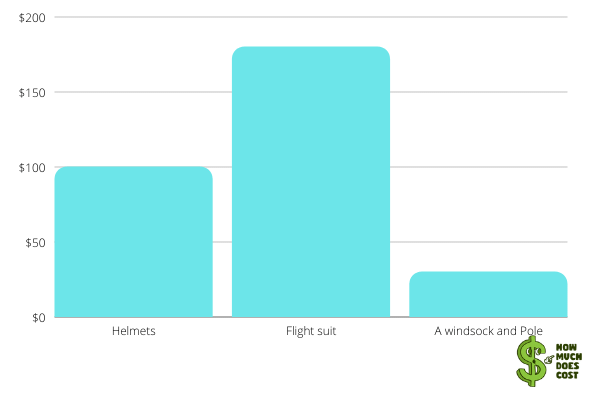 Now we have to focus on other costs related to paramotoring. Here you will see all the costs that come with paramotoring. They are essential for a paramotoring activity.
Helmets
You will need to get a proper helmet that protects you from trips and bad landings. Normally you will pay between $100 to $600. However, the higher you go here, the better your helmet gets; you will easily find a helmet with a radio headset for a reasonable price.
Flight suit
If you plan to do some paramotoring in the cold weather, you will need a flight to keep you comfortable. Here you can expect to pay between $13 – $270 for all in one suit. That properly brings the essential features.
A windsock and Pole
It is better to have this in the launch field the wind will change its direction in seconds. It can be tough to tell where the wind is blowing as this will greatly impact wind direction in flight.
The entire windsock and pole will cost you around $30.
These are some of the main accessories that will make your journey better. Some other equipment that you need to focus on will be a carrying rack because it can get tough to carry fuel and all the necessary equipment to the field.
To eliminate the problem with fuel spills, you need to get a decent carry rack. It is up to you to decide where to get the rack. Most pilots build their racks instead of buying them.
There are so many good websites that will provide you everything you need on paramotoring; you will find decent racks for a moderate price range that doesn't go too far into the budget. If you don't want to make a purchase, then you can create a bag of your own to handle the equipment for easy transportation.
Thrilling adventure You Might be interested:
Conclusion
Paramotoring will not be cheap, but the investment in training and gear will be a one-time investment. Some costs will be running costs but the initial price will be a one-time thing. Switching to the used products makes the sport very affordable for anyone who is interested in the sport.