Last Updated on July 12, 2021 by hmdcadmin
One of the newest and exciting sports that will pump the adrenaline rush in your body is snowboarding.
It is a very fun and exciting sport to be a part of. If you ever wondered about the cost of gear and accessories people wear when they jump into snowboarding, then you are at the right place.
This article will provide you all the useful information you need to know about the sport to have a basic idea of what kind of product to look for if you are planning for a snowboarding trip.
It can get really difficult for the first-timers to understand the basics of the sport as there are plenty of mistakes a person can make when they are buying snowboarding pieces of equipment. As the price always fluctuates the maker rarely stays consistent.
How Much Does Snowboarding Cost?
The cost of snowboarding fluctuates and it is mostly done with the person's skill level more than anything else. The average cost of the most basic snowboarding gear will land you at $1,300. Here you will get a snowboard, bindings, boots, goggles, gloves, clothing, and underwear. If you're looking to get the best in the market, then you will have to prepare to pay more money on a simple snowboard. A professional-level snowboard will come around $400 to $1000.
While the sport is fun, it requires you to invest a decent amount of money to get into the groove of the sport. All the accessories play a key role in making you safe and your ride comfortable,
Here is the guide to every cost that comes with snowboarding. Many people like the entire snowboarding sport when they do it for the first time. It is enjoyable and exciting, but the sports will be far too expensive if you are not careful.
Other Related Articles:
Things To Check Before Buying Gears For Snowboarding
Before snowboarding, there are things that you should know to make your journey in this world a bit cost-friendly.
Spending money without checking all the aspects of the sport will be a bad way to approach this sport or any other sport.
Of course, there are chances you will find high-level gear for a solid price, but if you are not at that level.
The entire gear and equipment will be eating dust rather than get used in the sport. Plenty here make the mistake of buying out all the good level gear with premium prices without checking their body size, performance level, physical characteristics, ringing style, skill level, and many more.
These are the aspects that you should pay attention to more than anything if you want to succeed at the sport. Once you understand your skills' core trait, you will be ready to get the gear that fits in your circle and your comfortability.
Average Snowboard Price In The Market
Several factors play a key role in driving the rate of snowboarding in the market. Aspects such as material, design, the riding level, and length. One will easily find a snowboard that falls below the average price tag in the market, but that doesn't necessarily translate to a product of decent quality.
You will get low-tier snowboarding with cheap materials. It can be difficult to predict the lifespan of the cheap equipment, as they tend to degrade a lot over time.
Compared to the low-quality gear to the average snowboard, you will pay a bit more, but the experience will be far superior compared to the cheaper one.
An average level snowboard will come at the price tag of $400. These snowboards will have a combination of stability and ease of turning. $400 seems to be the bar in snowboarding that will deliver results without lessening the material quality.
The lifespan will also be longer and you will have more fun riding this one than going below the average bar in the market.
Ensure to inspect the product to see if it has everything you need before buying it.
Why is Snowboarding So Expensive?
Picking up a hobby is hard for everyone, as most hobbies will require you to invest time and money. However, once you invest the proper amount of time and effort, you will start enjoying your hobby and spending more time playing it than learning it.
This is the pattern that follows with most of the activities that people want to do in their life. At first, it will look and sound good, but the magic will be lost after a while because less attention was paid to the comfortability and fun aspect of it.
Snowboarding is a popular sport, but it is known as one of the most expensive activities to be a part of, you will need all the right gear to get the best out of sports and each gear will play a vital part in protecting you from harm and making your ride comfortable.
One of the things that get hardly mentioned when people mention snowboarding is its cost.
The cost of the sport will play a significant role in making your ride better or worse.
Not only you will have to deal with the expenses of snowboarding which is pricey when it combines all the accessories that are required to enjoy the sport, but there are other expenses such as traveling to the resort, food, and drink for the stay, ski lift passes, and many more that should be taken into consideration before purchasing the gear and equipment.
Once you know all the aspects of snowboarding, then you can think about investing a proper amount of money into the sport or not. If you are planning to snowboard once a year, then it's better to take a trip than buying out all the expensive gear that will be sitting in the garage eating dust for the better part of a year.
The cost of Snowboard accessories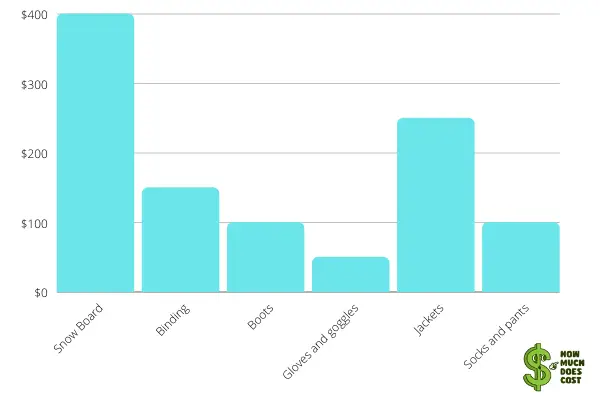 Each accessory will play its part in making your ride as comfortable as it can be for your snowboarding trip.
They all play a part in making sure you are equipped perfectly for the snowboarding trip. 
Accessories are what will make your snowboarding experience better by bringing comfortability and reliability to your gear.
Here are the costs related to accessories and how much you are going to spend getting them for yourself.
Snow Board Cost
The average price of a snowboard welcomes anywhere between $300 to $400. Make sure to stay within this range so you will get the best value per money product that will have a longer lifespan and be made from good material.
Cheaper ones will not give you the right comfortability you need when you are snowboarding for the first time. If you don't want to spend upwards of $300 on a snowboard, then get a used one before looking at the cheaper variations in the market.
It is always better to switch to a second-hand good tier product than buy a new, cheaper version.
Binding snowboard cost
A good quality binding will cost you around $150. Make sure the brand is proper and the quality of material used in making the binding is premium.
So they will last longer and hold you to the board properly.
People should always choose the right binding on their riding style, ability level, and board or boots compatibility.
The major aspect of the binding is always giving you the comfort you need to ride the board. If it doesn't have that, then you should switch to another.
Boots For Snowboard cost
Here you can spend upwards of $100 to get a good pair of boots that can withstand any environmental damage without taking any significant damage.
Snowboarding is one of the most environmentally challenging sports in the world.
You will have to deal with the environmental challenges and rough terrain, and many other challenges that will make the right fun for a lot of people.
Boots will play a heavy role here, so spending a good chunk of money on them will be a better idea.
Gloves and goggles For Snowboard cost
Not all weather patterns will share the same playing field. The difficulty in challenges is what makes the game more intense and fun to some players.
If you're one of them, then make sure at least have good goggles and gloves to keep your hands and eyes protected from the cold.
Good quality goggles will take care of the debris without blurring your vision. Gloves will keep the hand warm in a cold environment. Resistance is another thing you should focus on when you are buying a glove.
Jackets cost For Snowboard
Your body needs to stay warm during the ride without getting damaged by any foreign object. A good quality jacket for snowboarding will come around $250.
Make sure to inspect the material quality, the shell of the jacket has to be heavy-duty and durable.
It should keep the water out of the jacket. Another thing that you should focus on is the warm level of a jacket. Nowadays many jackets come with Thermolite insulation as it offers plenty of benefits and keeps you warm at the chilliest times.
These are the elements that make the jacket comfortable for your ride. You are going to spend 4 to 5 or more hours in the snowboarding location.
Getting a better jacket with no amount of benefits will bring your comfortability down a lot. Plenty make the mistake of getting a cheaper jacket for the sport, but in reality, this doesn't help the situation at all.
Socks and pants
You want the socks that keep you warm, and it has to be made from a durable material. So they will do an excellent job of keeping the feet warm in your ride. Also, the socks have to feel comfortable around your legs, so you will have much more flexibility in your movement.
Losing the flexibility of comfortability in snowboarding will ruin the moment of overall sport. So it's better to grab a pair of socks that feels comfortable around your legs.
And doesn't limit your movement while you're snowboarding.
Overall you should get the appropriate clothing for the sport. The clothing and equipment will take away most of the cost in this sport.
Almost all the clothing mentioned above is essential for your ride, and the investment in them will serve you for a long time. As the quality of the parietal and the price you pay for the equipment will make them long-lasting and withstand any amount of adage without showing any sign of wear and tears.
Other costs related to snowboarding will make the experience a little bit pricey, but knowing about them will help you set up a proper plan to start your activities.
Private Lessons Cost For Snowboarding
The first thing that you need to do is to get private lessons. It is highly recommended to take at least a couple of lessons before jumping into the sport.
If you are a newcomer, then you can use the lesson to improve yourself and not to commit any common mistakes that will hinder your snowboarding experience, here; you can expect to pay $20 to $50 for a group lesson if you are seeking a more private one, then the price will go up to $70 to $500 or it can go even higher depending on the tutor and the reputation of the tuition.
Conclusion
Snowboarding is still the most adrenaline-rushed activity to do in the world. But to pull off the stunts, twists, turns, you will need a snowboard that can deal with the environmental damage and provide you the smoother control you need to feel comfortable on the board.
Make sure to get all the accessories to keep your body warm and secure when you are snowboarding. Otherwise, you will get involved in dangerous accidents that can leave permanent marketing on your body. It is always better to pay the price for safety than paying with life.