Last Updated on July 12, 2021 by hmdcadmin
After analyzing the cost of a cocktail parrot, and the cost for a sun conure, now it is time to look at the expense of owning a hyacinth macaw.
If you are in doubt about which of the species of parrot own, in this guide I can help you, analyzing all the costs related to the world's largest parrot from all the species present.
How much does a hyacinth macaw cost?
After checking some of the most important stores online, the average cost for buying a hyacinth macaw parrot is between $1500 – $6000. Some Baby Hyacinth Macaw Parrot can be found at less price, around $2000, while for an adult Hyacinth macaw female, the cost can reach $12.000.
As the initial cost for a hyacinth macaw parrot can be variable, maintaining a hyacinth macaw is more or less the same as others parrots, anyway. For a more detailed guide, I suggest you keep reading.
Hyacinth macaw cost
| | |
| --- | --- |
| Lower price | $2000 |
| Highest price | $12000 |
| Average cost | $7000 |
Cage cost for hyacinth macaw
The macaws are a group of parrot species, and they are very known to be part of the largest species of parrot present on the planet.
They can reach considerable size a hyacinth macaw can grow up to 40 inches long and weigh more than 2 pounds.
Due to their dimension, they become mighty and full of power, and they can easily break the cage. 
It is better to spend more money on the beginning stage to guarantee a suitable place where your macaw parrot can live and spend time without any problem starting from the first days of its life.
To give you an idea about the cost present on the web, we decided to summarize it with a table.
| Size of the cage | Price |
| --- | --- |
| 30x22x63 | $420 |
| 36x24x63 | $274 |
| 36x25x62.5 | $263 |
The average cost for a hyacinth macaw cage is $319.
As you can notice, the size of a hyacinth macaw is more prominent than other parrots because if you consider that the wingspan is more than 120cm, your parrots will need more space to feel comfortable and live quietly. 
Cost to keep clean a clean cage for your hyacinth macaw
After spending more than $300 for a cage, for sure you want to keep it in good conditions and use it for an extended period, right?
But this should not be your only worries, because keeping a clean cage will benefit your hyacinth macaw from getting some infection due to the dirty conditions.
For doing this you will need some products that will help you with the cleaning process, some of them are:
| | |
| --- | --- |
| Poop-Off Bird Clean Up Liquid | $15 |
| Bird Cleaning Brush | $12 |
| Birdcage cleaner | $10 |
Considering that cleaning operation is usually done twice a month, yearly we can estimate a cost of $80 for cleaning the cage.
Travel cage cost for Hyacinth macaw
Another essential thing that you will need if you are traveling is the travel cage. There is a various option present on the web, here our analysis about the cost.
| Size | Cost |
| --- | --- |
| 18x14x22 stainless | $150 |
| 19x12x13 | $70 |
| 28x18x5 | $120 |
| 13x13x17 backpack | $83 |
The average cost for a travel cage hyacinth macaw $105,75
Also, there are plenty of solutions that you can choose, all depending upon your style and your exigent.  
Toys costs for hyacinth macaw
The Toys are very important for hyacinth macaw parrots, guarantee entrainment, and keep his morality high. 
We insert the cost of toys for the hyacinth macaw because you have to know that due to his strong beak, there will be many occasions in which you need to replace the toys that you bought some weeks ago. In the following part, you will see the average cost of buying toys for your hyacinth macaw.
| | |
| --- | --- |
| JUMBO KNOT CRAZY SIZE 24″ X 4″ | $42 |
| JUMBO BAGEL MANIA SIZE 18″ X 16″ | $33 |
| Bonka Bird Toys | $50 |
| Delorey Chewing Toy | $27 |
| Huge Plastic 3 Ball Bonka Bird Toys | $33 |
The average toys cost for hyacinth macaw parrot is $37
If you look at other toys for your future hyacinth macaw parrots, you will see that the price does not exceed $60.
Anyway, considering the average cost of $37 for a toy and that your parrot will break at least one per month, you should assume that you will spend around $37 per month only buying toys.
Food cost for hyacinth macaw parrots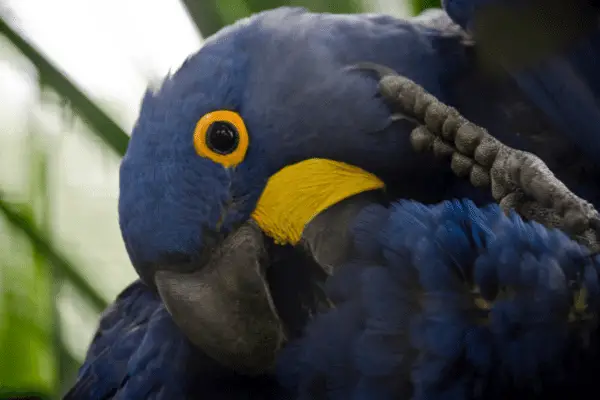 Considering their native habit be South America, the hyacinth macaw parrots feed themselves of fruit, green vegetation, and nuts. 
If you decide to take a hyacinth parrot, start of thinking to buy more vegetable, fruits, and nuts, as they need a lot.
Some of the food that a hyacinth macaw parrot can eat are:
| Fruit and Vegetables | Average cost |
| --- | --- |
| Apples | 0.82 U.S. dollars per pound |
| Banana | $1.56 Kg |
| Mango | US$2 to US$2.5 a piece |
| Broccoli | 0,80 USD for 1kg |
| Tomatoes | 1 USD for 1kg |
These are the average cost of paying for fruits and vegetables to feed your future hyacinth macaw parrots.
While if you want to mix some fresh fruit and vegetables with Tidymix Food, here is the cost.
Tidymix – High-Quality Seed Blend 12.5Kg $45
Tidymix – banana chips parrot 500g $7
Tidymix Fruit and Nut Parrot Treat – 250g $6
These are important to give additional vitamins to your parrots. Anyway, for more clarification, refer to your vet.
If we consider the quantity of food that a hyacinth macaw eats daily with the average cost for both fresh and not food, you will spend around $40 per month.
Insurance cost for hyacinth macaw parrots
It is always a good practice to get insurance on exotic birds because you will feel safer if something happens during your bird's life.
Depending on the location where you live, finding bird insurance can be a challenging job; anyway, thanks to the web, some websites offer good service.
Reasons to do insurance on hyacinth macaw parrots
It is good to have bird insurance for a series of motivation:
The first and most important is that in case of vet visits, you have to do so for sure during the lifespan of your parrots; if you are not covered by insurance, every time you present your hyacinth macaw parrots can be a hard surprise for you.
If you visit petassure.com you will see that you will save a lot of money covering your parrot with insurance. Some example is:
Routine wellness exam, you can save $12, for vaccinations, you can save $29.50, and the list goes on.
The average cost for exotic bird insurance is $50 per month.
Vet cost for hyacinth macaw 
If you will keep your hyacinth macaw active and give you enough supply to chew, you should not have any problem during the time that you will keep it.
As for others species of parrots, the main problem for hyacinth macaw is regarding wasting disease, like psittacosis and papillomas.
The vet costs in case of a normal check, if you are not covered by insurance, can reach $200 for minor operations, while if your hyacinth macaw needs special care, the cost can go up until reaching more than $1000
Grooming cost for Hyacinth macaw
As for any pets, Hyacinth macaw parrots need proper grooming care; it might be costly if you choose to buy the best items present on the market.
Some of the most important items you will need to keep your hyacinth macaw parrots clean are the following.
| Items | Cost |
| --- | --- |
| Nail trimmer stone | $15 |
| Zen clipper precise for pet nail | $25 |
| Shampoo for parrots | $10 |
With an average cost of $16.66
Additional cost for hyacinth macaw
This section is dedicated to all the people that have neighbors.
Considering that your future hyacinth macaw parrots could learn some words during the lifespan and start to speak repentantly, it can generate some conflict with your neighbors.  
The solution that you can adopt is to soundproof the room, and typical soundproofing depending on the material you will use, might be costly.
The lower price is $600, and it can go up until reaching more than $2500.
After analyzing the majority of the cost, singularly, it is time to sum everything and see how much a hyacinth macaw cost to maintain.
Others cost
Conclusion
The hyacinth blue macaw parrot is incredible, its beautiful color is irresistible, and almost every bird owner should love to have one. Anyway, sometimes, due to the cost of buying one and then maintaining it, not everyone can afford this expense, but if your life and money permit, the next thing you have to do is go and buy a hyacinth macaw parrot.
Resources: