If you are passionate about sailing, I am sure that sometimes you had thought about buying a catamaran, you might be scared about thinking how much money a catamaran can cost you at first appeal.
But not worry, in this article, we will take a deep look at the cost of purchasing a catamaran and the average cost that a catamaran owner should effort.
How much does a catamaran cost? The purchasing cost for a 45ft catamaran boat is around $200,000, adding some other cost like surveying that will cost you on average $30-60 per ft. After purchasing a catamaran boat, other costs include registrations and documentation fees that in the USA will cost $750.
If you were thinking that this is all about the cost of purchasing a catamaran boat, you're mistaken, as many other costs will be added to the list, so keep reading.
Insurance cost for a Catamaran
Until now, we listed some of the costs of owning a catamaran as the surveying and registration, and documentation fees.
But the list goes on; the next cost you need to do soon you get your catamaran boat is regarding the yearly insurance.
How much does insurance cost for a catamaran?
Depending on where you will boating, and if your catamaran will have a crew on board, the average cost of insurance for a catamaran is calculated considering 1-to 2% of the total value of the catamaran.
So for a $200,000 catamaran, the insurance will cost you something around $2,000 to $4,000.
There are further differences that may be varying the price of the insurance, and this main distinction is if the catamaran will sail in a hurricane zone or not.
Insurance cost for a catamaran inside Hurricane zone
The hurricane zone of America are the states of Florida, Bahamas, Caribbean, if you are planning to sail in that area, the percentage that you have to pay for the insurance is 1.5%-1.7% of the boat value.
Insurance cost for a catamaran outside the Hurricane zone
The outside zone of Hurricane in America is defined as North of Florida, and in that zone, the cost for your Annual insurance will be around 0.8%-0.9% of the boat value.
Insurance cost for a catamaran in the Mediterranean
The cost insurance for the Mediterranean Sea is around 1.0% of the boat value
Catamaran tax cost for USA
If you buy the catamaran in a USA state and are a USA citizen, there is usually no tax to pay. Opposite discussion if you are a USA citizen and you buy a catamaran offshore of the USA.
In that condition, you have to pay USA tax for the purchasing of the catamaran. In general, the import of the catamaran in the USA ranges from 1.5%-1.6% of the cost of purchasing.
And it will be translated to a cost of $1,600 for a $200,000 catamaran boat.
Yearly storage cost for a catamaran boat
There isn't a precise value estimated when we speak about the storage cost, but we try to be as precise as possible.
On average, in the USA, the rate will vary depending on the length of your catamaran and how many days you need to store your boat.
After some research we found out that the cost in the USA is divided as follow:
If you keep the boat for a 120 days maximum of period, the rate is around $0.57 per foot/day
While if you keep the boat more than 120 days, the rate will be around $0.52 per foot/day
If you own a catamaran of 46 ft. you will pay:
Less than 120 days $3,146
More than 120 days, let's assume 180 days $4,305
Cost of catamaran by most common models
In this part of the article, we will look at the cost of a catamaran boat by the most common models used in the market and the most budget-friendly.
| Models | Price |
| --- | --- |
| 2005 Gemini 105 | $76,000 |
| 2013 Dolphine Ocema 42 | $225,000 |
| 2006 Privilege 435 | $225,000 to 330,000$ |
| Fountaine Pajot Belize 43 | $180,000 to 280,000$ |
| 2006 Nautitech 444 | $240,000 to $300,000 |
| 2009 Lagoon 440 | $240,000 to $500,000 |
| 2016 Leopard 45 | $200,000 |
| Voyage 44 | $180,000 to 350,000$ |
As we can see from the table above, the most famous and common catamaran models can be found at an average price of $200,000.
Cost of maintenance for a catamaran boat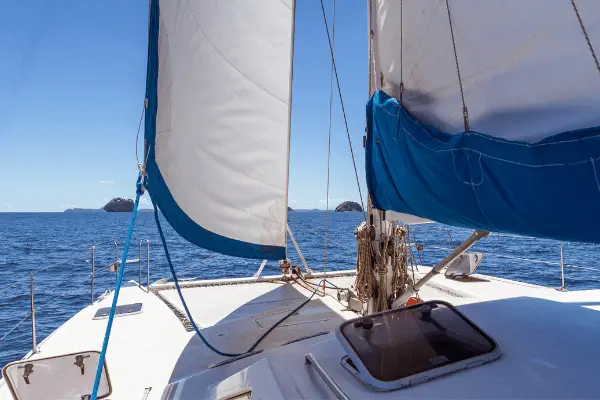 If you are already inside the boating world, you will probably know that the maintenance cost for a boat will take a huge amount of money each year.
In this part of the article, we will look at the cost of maintenance related to owning a catamaran boat.
Regular maintenance cost for a catamaran boat
The first type of maintenance that you should do to maintain the catamaran in the best condition possible and avoid further damage is regular maintenance.
These types of maintenance include e painting, propeller, boating cleaning, and so on. For a more clear idea, take a look at the table below.
| | |
| --- | --- |
| Painting | $300 |
| work on propeller | $100-$350 |
| Engine maintenance, including battery change | 200$ |
| Alternator replacement | $100 |
| Filters | $50-150 |
| boating cleaning ( including products) | 600$ |
| Zincs replacement, for example for the propeller where it must be replaced every 3-6 months in saltwater | 200$ |
| filters for water system  | 200$ |
| Windows seals (foam and protections) | $200 |
| Output drive shaft seals 500 hours of running time are good then need replacement  | 150$ |
On average, all this maintenance regarding regular maintenance and prevention comes around $2,000 to $9,000; of course, it depends on the type of maintenance you do and if you need to replace all of the listed items or remake the service listed before.
This cost will vary depending on if you are a DIY person or not.
Periodical Items Replace cost for a catamaran
This category includes items that you will not change every year, but they need to be replaced every 2-4 years, depending on the items.
Parts of this category:
Sails maintenance replacement $8,000k-$14,000 on average every four years, if we consider the lower cost of $8,000 is $3,600 per years
Air conditioning maintenance $3,000 per year
Sea deck 5400$ almost every 3 years
$9,500 will be the average cost that you will spend each year because, more or less each year, you will have items to replace.
Upgrades and improving cost
This part is things that are added to the boat, and it depends on the person; it can be a great value or less, in the long term, it can give 
Solar panels system 4,000$ advantage do not run the generator
Electronics $3600 autopilot 
Upholstery can cost you around 1000$
Mattress $2040
Washing machine 1080$
The average total yearly that you could spend is around 6-8% of the your boat value
You might be interested:
Conclusion
This article aims to give an idea about the cost related to a catamaran; sometimes, people just like to wonder about owning a catamaran and may not be aware of the cost related to owning a boat. Please consider that these numbers may vary depending on many factors: quality of material that you will use, your preference for keeping the boat, service cost if you are not a DIY person, etc.